Aids Test Kit / HIV Home Test Kits / HIV Test Kit
One Step Cassette Style AntiHIV 1+2 Test is a rapid direct binding screening test for the presence of antibodies to HIV 1 and HIV 2 viruses. The test is based on the principle of double antigen sandwich immunoassay for detection of Anti-HIV in serum. Purified recombinant antigens are employed to identify AntiHIV specifically. This one step test is very sensitive and only takes about 10-20 minutes. Test results are read visually without any instrumentation.
| | |
| --- | --- |
| Product name | Whole Blood HIV 1+2 Rapid Test Kit |
| Specimen | whole blood |
| Contents | Each pouch contains one test cassette and one desiccant(cassette) |
| Sensitivity | 4NCU/ml |
| Read time | 5min |
| Storage | Room Temperature 2--30 |
| Format / Size | Cassette:3.0mm 4.0mm |
| Payment term | L/C, T/T, Western Union and Paypal are all available |
| Service | OEM available |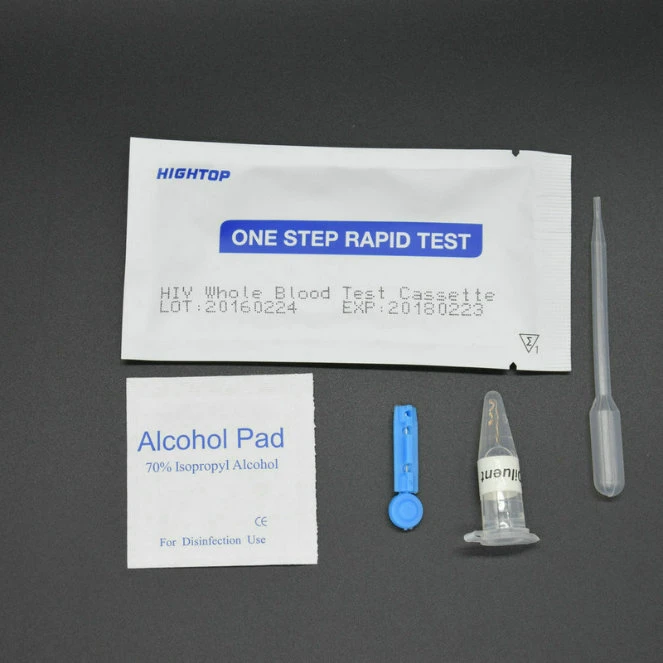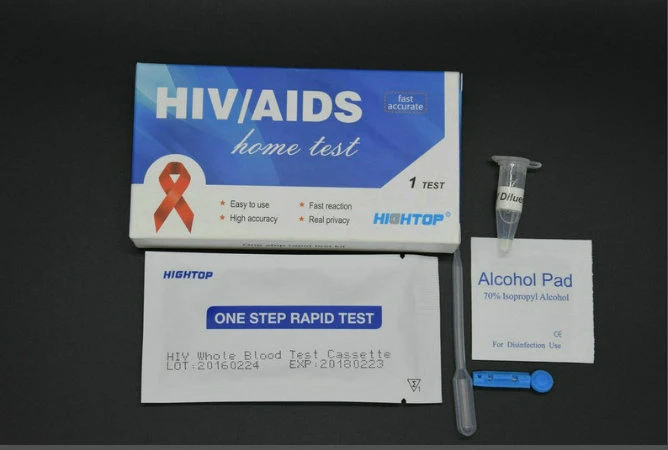 SPECIMEN COLLECTION
For serum, collect blood into a container without anticoagulant. Allow the blood to clot and separate the serum from the clot. Use the serum for testing.
If the specimen cannot be tested on the day of collection, store the serum specimen in a refrigerator or freezer. Bring the specimens to room temperature before testing. Do not freeze and thaw the specimen repeatedly.
TEST PROCEDURE
1. To begin testing; open the sealed pouch by tearing along the notch.. Remove the test from the pouch.
2.Immerse the strip into the sample with the arrow end pointing towards the sample. Do not immerse past the MAX (maximum) line. Take the strip out after 8-10 seconds and lay the strip flat on a clean, dry, nonabsorbent surface
3. Wait 10-15minutes and read result. Do not read results after 20 minutes.
INTERPRETATION OF RESULTS
Negative:Only one colored band appears on the control (C) region.No apparent band on the test (T) region.
Positive:In addition to a pink coloured control (C) band, a distinct pink colored band will also appear in the test (T) region.
Invalid:A total absence of color in both regions is an indication of procedure error and/or the test reagent has deteriorated.
STORAGE AND STABILITY
The test kit should be stored at room temperature (18 to 30°C) in the sealed pouch to the date of expiration. The test kits should be kept away from direct sunlight, moisture and heat.
PRECAUTIONS
1,For in vitro diagnostic use only.
2,Do not use test kit beyond expiry date.
3,The test device should not be reused.
4,For samples that test positive by the One Step ANTI-HIV Test, a more specific confirmatory test should be done. A clinical evaluation of the patient's situation and history should also be made before a final diagnosis is established. The use of a rapid test is not sufficient to diagnose AIDS even if antibodies are present. Also, a negative result does not preclude the possibility of infection with HIV.
5,The instructions for use and reading of the test must be followed exactly in order for the test to perform properly.

Related Products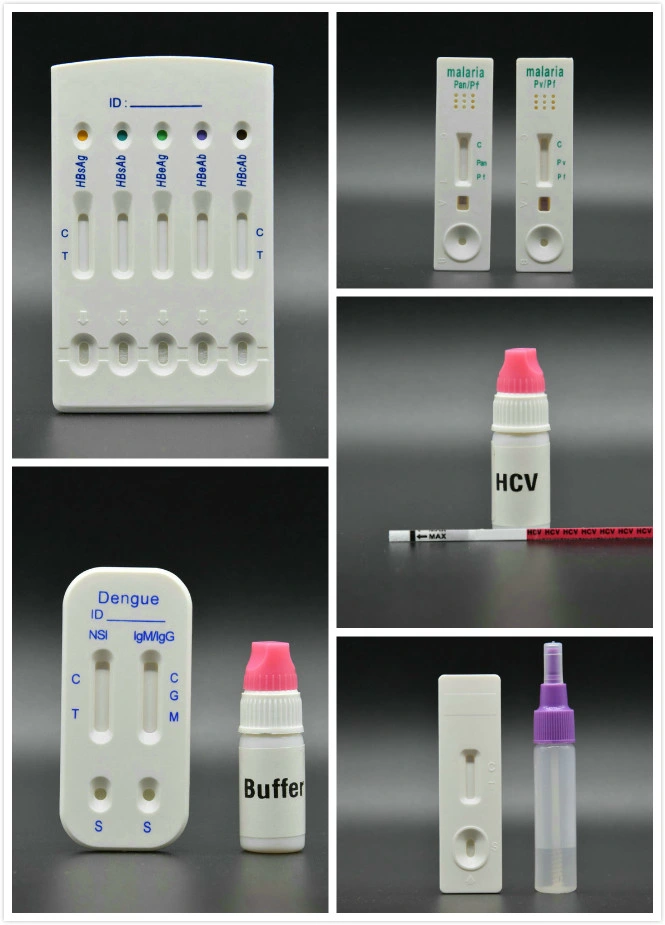 Our company
GEMC is the short name of Gem Medic Electric & Technology Co.,Ltd located in Henan Province, China, which is a privately-held corporation high-tech enterprise specializing in trade of rapid medic diagnostic test kits and device. The main products we supply are pregnancy test kits, ovulation test kits, sperm fertility test, drug of abuse test, infectious disease test, saliva alcohol tester, digital clinical thermometer, blood pressure monitor,ovulation microscope monitor and other medical test device.
Since the foundation of company, based on the belief-product quality and service are the lifeline of enterprise, so now we have had global customers from all of over the world, such as France, Russia, UAE, Brazil, Mexico, Peru and south Africa, totally more than 70 countries and areas.

And we will sincerly hope supply more & better service for you, 'for your better health & happy life' is our working target, welcome to visit our website to know more about it, thanks.


Certificate